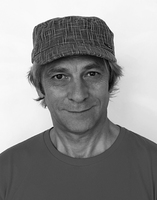 Egon Zippel was born in Timișoara, Romania, in 1960 to German parents. When Romania's future dictator, Nicolae Ceaușescu, rose to power in the early 1960s, the Zippels presciently left 1964 for the Mannheim-Heidelberg region, Germany, to begin life anew.
After a stint in the German army, 1979-1981, Egon studied graphic design at the University of Mannheim and received a Fulbright scholarship comprising an introductory month at Georgetown University in Washington, D.C., and the academic year of 1984-85 at the University of Texas in Austin. Over the next few years, he studied computer graphics at the New York Institute of Technology and continued with postgraduate studies at the Institute for New Media at the Städel Art Academy in Frankfurt 1993-1994.
During the early '90s, Egon also lived in Milan, Italy, until eventually settling again in New York City in 1996.
Egon believes in predetermination as well as free will and everything in-between. Wrestling with these contradictions makes life playful and infinitely more complex.
– ZMDW, GMDK (z) NNDNMF VTY – x - xx - xxx